As we enter 2021, why not work on creating a #healthyselfie with food choices, attitude, fitness and better sleep? One of the easiest and best ways to do this is by adding more produce to your glass, bowl or plate. Fruits and vegetables bring color, taste and health benefits to meals and snacks. One of my favorites are cherries…and although we think of cherries in the summer, you can enjoy Cherries from Chile now to brighten up the winter drear with some flavorful cheer!
Cherries are a good source of Vitamin C, potassium and phytonutrients such as anthocyanins to aid in decreasing inflammation. They are rich in antioxidants that may help reduce the risk of cancer and heart disease. Cherries are also packed with melatonin which can help enhance sleep quality. Plus, their naturally sweet taste is a perfect complement to savory foods and a great way to create craveable cuisine. In fact, by including cherries in recipes, you can minimize the need for added sugars
Here are four recipes using Cherries from Chile that would be delicious for breakfast, lunch, dinner and a snack.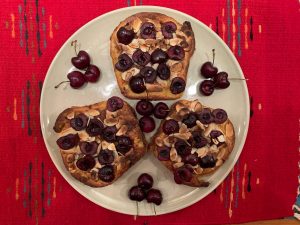 Cherry-Marzipan French toast
This would be great for a weekday breakfast, weekend brunch or even a dessert.
INGREDIENTS
3 slices bread- cut ½-inch think
3 eggs
1 Tablespoon butter
¼ cup evaporated skim milk
2 Tablespoons marzipan (almond paste)
½ cup Cherries from Chile, pitted and sliced in half
2 Tablespoons slivered almonds
DIRECTIONS
Beat together the eggs and milk and add the bread, turning it to soak up the liquid. Melt the butter in a large nonstick skillet, and brown the bread on either side until golden color. Remove from the pan and spread 2 teaspoons of marzipan on each slice of toast. Top with halved cherries and slivered almonds.
Serves 3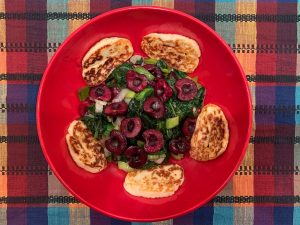 Spinach and Cherries with Halloumi
Plant based eating takes center stage with this easy and delicious main dish.
INGREDIENTS
3 cups spinach
½ leek, sliced thinly
1 Tablespoon olive oil
6 slices Halloumi, cut ¼ inch thick
½ cup cherries from Chile, pitted and halved
DIRECTIONS
Sauté leeks in olive oil until soft, add spinach and sauté until spinach is softened. Remove from the heat. In a separate nonstick pan, grill the Halloumi slices on each side until golden brown.
To serve, place the spinach, leek mixture on a plate, top with the cherries, lay the Halloumi around the plate, and season with salt and cracked pepper to taste.
Serves 2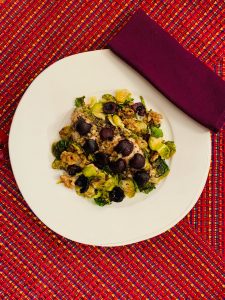 Roasted Chicken with Brussel Sprouts, Cherries and Walnuts
This dish is delish as a main course, and you could add rice, pasta or potato. It is also great cold as a salad with some crunchy breadsticks.
INGREDIENTS
4 chicken breasts, skinless, boneless
½ pound Brussel sprouts, shaved
¼ cup chopped walnuts
1 cup pitted, halved Cherries from Chile
2 Tablespoons olive oil
Italian seasoning
Salt
Pepper
Dark cherry vinegar
DIRECTIONS
Preheat oven to 350 degrees. Place chicken, Brussel sprouts and walnuts in an 8 x 8 baking dish. Top each chicken breast with cherries. Drizzle on the olive oil, and season with salt pepper and Italian seasoning. Bake for 30 minutes or until chicken is done. When ready to serve, place chicken breast on a plate and surround with Brussel sprouts and walnuts. Drizzle each chicken breast with dark cherry vinegar.
4 servings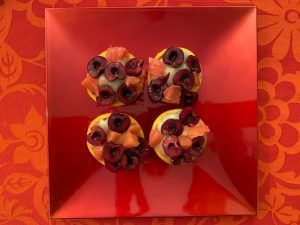 Lemon Sorbet filled Orange cups with Cherries and Kirshwasser
This dish is light and bright and marries the tang and the sweet into a delicious treat.
INGREDIENTS
2 oranges- Cara Cara, Navel, Blood
½-3/4 cup lemon sorbet
1 cup Cherries from Chile, pitted and halved
2 Tablespoons Kirsch
DIRECTIONS
Cut the oranges in half and section them. Remove the sections and place in a small bowl with the juice. Scoop out the orange half to create a smooth shell. Do this for each half. Fill each orange half with 2 -3 Tablespoons of lemon sorbet and freeze until set. In a separate bowl, mix together the orange sections, cherries and the Kirsch and refrigerate for about an hour. When ready to serve, spoon the cherry-orange mixture over the orange halves and serve.
Serves 4