As a registered dietitian, and sports dietitian for the Kansas City Chiefs- I always talk with my athletes about how to Create a Great Plate.
Let's talk about what you may want to put on the plate. You need to customize and personalize to include foods you like and what you have at home.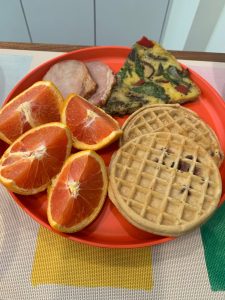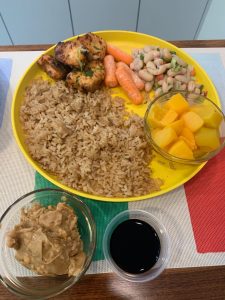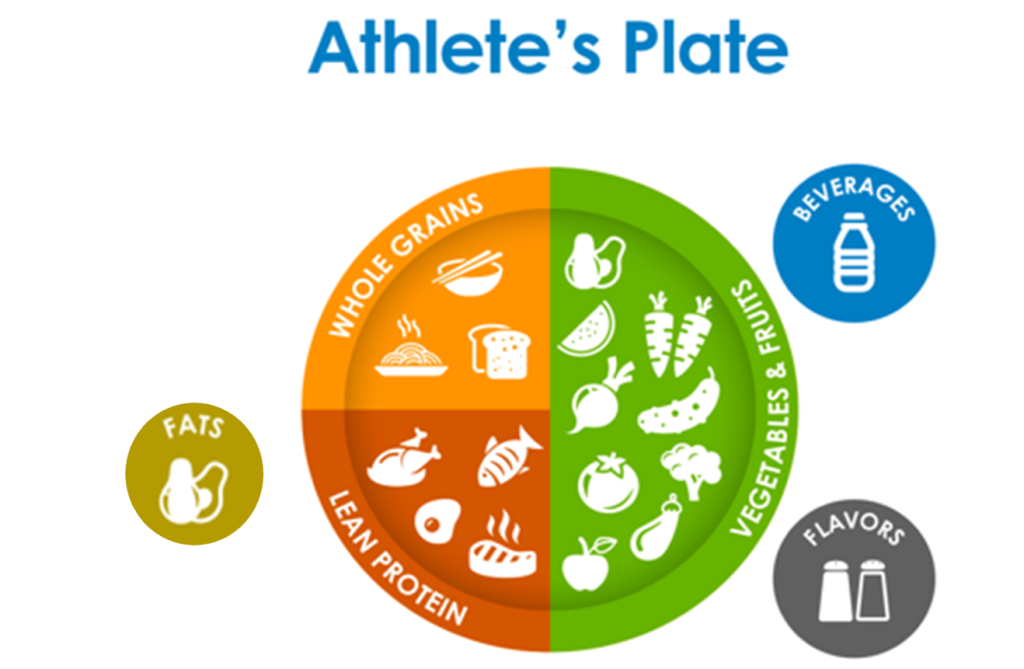 ½ of the plate should be produce (green in the picture) this is fruits and veggies that can be fresh, frozen, canned, dried, and raw or cooked.
¼ of the plate should be carbs including grains such as pasta, cereal, bread, rice, bagels, crackers as well as corn and potatoes.
¼ of the plate should be protein such as meat, poultry, fish, eggs, milk, yogurt, cheese, cottage cheese, soy foods, beans and peas.
Do include
Fat – nuts, nut butter, avocado, oil, salad dressing
Flavors such as salt, herb, spices, ketchup, mustard
Fluids- such as milk, water, juice, lemonade
Carbohydrate containing foods are all stars for quick and longer lasting energy for body and brain so you can think and train.
3/4 of the plate should be carbs in the form of rice, pasta, potato, bread, cereal, fruit, vegetables
Good sources of carbohydrate include:
Bread/bagels
Cereal
Tortillas
Rice
Pasta
Quinoa
Barley
Potatoes
Corn
Fruit
Vegetables
Pretzels
Crackers
EAT ENOUGH PROTEIN FOR MUSCLE GROWTH AND A HEALTHY IMMUNE SYSTEM and to support your supporting structure.
It is important to include protein containing foods at every meal and snack 1/4 of the plate as chicken, fish, meat, eggs, cheese, soy foods nuts, seeds, beans.
Do include PROTEIN AT BREAKFAST such as
Cheese- slices, String cheese, or 5-6 cheese cubes
Egg
Cottage cheese
Greek yogurt
A protein smoothie with milk, yogurt and/or protein isolate
Cheese on a bagel, not cream cheese
Peanut butter on an English muffin
Bar with some protein in it
What foods could you put in your bowl or on your plate?
ANIMAL PROTEIN
Beef
Pork
Poultry
Fish/shellfish
Eggs
Milk
Yogurt
Cheese
Jerky
PLANT PROTEIN
Baked beans
Veggie burgers
Tofu
Edamame
Bean dip
Peanut butter
Roasted chickpeas/lentils
Protein after workouts can help your body with muscle protein synthesis so you can repair and restore from exercise.
Consuming enough protein is also important to support a healthy immune system.
And protein is a key component of healthy bones, joints, ligaments and tendons as well as muscles.
FAT IS AN ESSENTIAL FUEL FOR EXERCISE
Add some as part of every meal as a spread, peanut butter, salad dressing, or in a food such as cheese, meat, or even a fried food.
There is no need to cut fat out of the diet.
Limit fat containing foods BEFORE exercise as they can upset your gut!
Do include some fat as part of every meal and snack.
Good sources of fat include:
Nuts/nut butters
Seeds
Olives/Olive oil
Pesto
Avocado
Guacamole
Mayonnaise Sunflower, corn, safflower, soybean, corn oils
Whipped butter or spreads
Fatty fish such as salmon, albacore tuna, sardines, mackerel
Ground flaxseed, Chia seeds
What you eat can make a difference in helping you to be well, live well and play well!