Cherries are a beautiful sight and a sweet bite. They are fabulous right out of the bag, but also unleash culinary creativity and versatility to recipes. Here are a few spins on old favorites to add the flavor to savor. Cherries and dairy to pair and share – #haveaplantwith dairy and a cherry and veggie dish that is just delish.
CHERRY RICOTTA S'MORES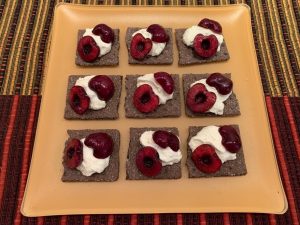 INGREDIENTS
9 squares of chocolate graham crackers
1/2 cup whole milk ricotta
2 teaspoons honey
1/4 teaspoons grated orange rind
18 cherry halves
INSTRUCTIONS
In a small bowl, mix together the ricotta, honey and orange rind and blend until smooth. Spoon approximately 1 TBSP of the ricotta mixture on each graham cracker square and top with 2 cherry halves.
YIELD: 9 S'mores
CHERRY CAPRESE SALAD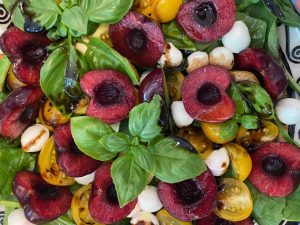 INGREDIENTS
1 cup baby spinach leaves
1/2 cup sliced yellow cherry tomatoes
16 cherry halves
1/3 cup mini fresh mozzarella balls- bocconcini
1/8 cup Basil leaves
2 Tablespoons olive oil
2 teaspoons cherry balsamic vinegar
INSTRUCTIONS
Put spinach in a bowl and layer on the tomatoes, cherries, bocconcini and basil, and toss with the oil and vinegar
YIELD: 6 servings
ROASTED BRUSSEL SPROUTS AND CHERRIES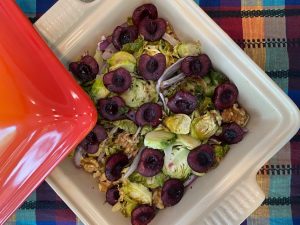 INGREDIENTS
1 pound thinly sliced Brussel sprouts
1/2 small red onion, peeled and thinly sliced
22 cherry halves
18 walnut halves
Salt to taste
Coarsely ground pepper to taste
22 cherry halves
INSTRUCTIONS
Place Brussel sprouts, onions, cherry halves, and walnuts in a 9 x 13 baking pan. Drizzle on the olive oil and season with salt and pepper to taste. Roast at 325 degrees for 30 minutes.
YIELD: 6 servings