Oh what a wonderful morning, afternoon or evening when Wonderful Pistachios are in the house. Full of healthy mono and polyunsaturated fats as well as protein and fiber make them a nutrition powerhouse that deliver on health and flavor. Plus., they make keep you fuller longer than other snacks and 49 pistachios is a nice serving size. As an added bonus pistachios in the shell mean you have to work harder to crack your snack!
I love them as they are, But also in recipes. Here are two recipes with pistachios, a pesto and hummus.
PISTACHIO PESTO PASTA SALAD
Pistachios replace the pine nuts and the lemon adds a lovely flavor to this delicious dish.
INGREDIENTS
1/8 cup Wonderful Pistachios,. shelled
2 cups basil leaves
2 garlic cloves, minced
1 teaspoon lemon juice
1/8 tsp grated lemon peel
¼ cup grated Parmesan cheese
¼ cup extra virgin olive oil
Salt to taste
DIRECTIONS:
Add Wonderful pistachios. Basil, garlic, lemon juice, zest and Parmesan cheese to a food processor. Pulse until the nuts are finely chopped.
Stream olive oil through the food chute and puree until smooth.
Boil 4 quarts of water and add a box of pasta shells. Cook until done. Drain and toss with ¾ of the pesto. Add sliced grape tomatoes and mozzarella pearls.
YIELD: 8 servings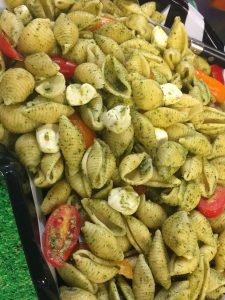 PISTACHIO HUMMUS
Instead of the tahini, ground pistachios add a lovely nutty flavor to hummus.
INGREDIENTS
2, 15 ounce cans of garbanzo beans, drain half of the liquid and use the rest
3 TBSP pistachios, shelled
1 TBSP extra virgin olive oil
2 cloves garlic, minced
1/3 cup lemon juice
½ tsp salt
¼ tsp paprika
¼ tsp black pepper
1/8 tsp cayenne pepper
DIRECTIONS
In a food processor, blend together the pistachios and olive oil until smooth, add garbanzo beans with half of the liquid and the garlic. Add lemon juice, salt, pepper, paprika and cayenne. Blend until smooth.
Serve with cut up vegetables
YIELD: 8 servings