When we hear the word "snack" we think fast, indulgent, delicious but not necessarily nutritious. The beauty of dairy is the versatility, simplicity and delivery of nutritional pow with a taste that wows. When time is short and hunger levels are high, dairy can be your go to and go with. Dairy foods are a complement to fruits, vegetables and whole grains to take snacking from ho hum to yum! Dairy snacks are tasty, versatile, easy and budget friendly.
SO WHY DAIRY?
Dairy is all about simplicity. A short list of ingredients that are long on flavor and nutritional benefits. Milk provides 9 essential nutrients, Yogurt provides 7 essential nutrients and cheese provides 6 essential nutrients that help your snacks to nutritionally stack up.
EASE OF USE
Dairy foods are ready to eat. They are great stand alone or combined with other foods such as a glass of low-fat chocolate milk and a banana with peanut butter.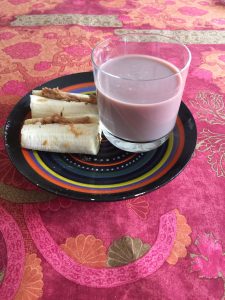 CHOCOLATE MILK AND BANANA WITH PEANUT BUTTER SANDWICH
Pour an 8-ounce glass of low-fat chocolate milk
Slice a small banana in half lengthwise and then cut each slice in half to have four pieces.
Spread 1 Tablespoon peanut over the 4 pieces.
Press 2 pieces together for a banana sandwich.
YIELD: 1 glass milk and 2 "sandwiches"
NUTRITION FACTS
Calories: 334
Fat: 10.8 grams
Carbohydrate: 54.8 grams
Sugar: 37.7 grams
Fiber: 3.6 grams
Protein: 12.6 grams
Calcium: 312.2 milligrams
Potassium: 895.2 milligrams
Plain low-fat Greek yogurt flavored with taco seasoning, onion soup mix or vegetable soup mix makes a high protein dip. Cottage cheese can be enjoyed as is, combined with fruit, or mixed with salsa. Cheese pairs beautifully with fruit, works as a tortilla topper or adds the show stopping topping to mini pizzas.
PROTEIN
Dairy foods are a great source of protein, which helps to make us feel fuller for longer. Many snack foods can be long on carbs but short on protein. A small dish of cottage cheese with applesauce and cereal is an easy protein–rich snack parfait. Yogurt is a ready to eat treat and an easy snack, but for a hack try plain Greek yogurt and add your own seasonings to taste such as cumin, chili powder, dill , garlic or onion powder and a little salt and use as a dip for bean chips and vegetables.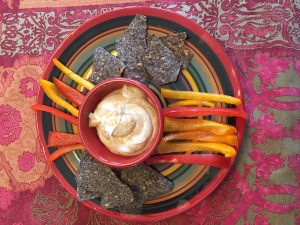 GREEK YOGURT DIP
5-ounce container nonfat plain Greek yogurt
1/3 packet Taco seasoning- or add your own herbs and spices if you want to lower the sodium content
Mix together and serve with cut up vegetables. If you want to use chips. Keep the portion to 1 ounce of chips.
YIELD: 1 serving
NUTRITION FACTS
Calories: 252
Fat: 7.1 grams
Carbohydrate: 29.9 grams
Sugars: 6.9 grams
Fiber: 5 grams
Protein: 19.5 grams
Calcium: 193.2 milligrams
Potassium: 487.1 milligrams
Dairy adds the creaminess and texture to a recipe. Oatmeal is not just a breakfast food, but is wonderful as a snack, and when combined with low fat vanilla Greek yogurt and pumpkin makes for a satisfying and tasty snack.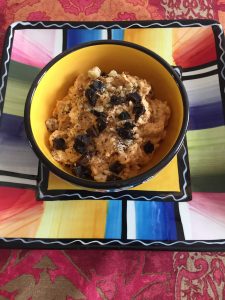 PUMPKIN OATS
1/3 cup oats, dry
1/3 cup canned pumpkin
1/3 cup low-fat vanilla Greek yogurt
1/4 teaspoon pumpkin pie spice
1.5 teaspoons maple syrup
1/2 TBSP chopped prunes
1/2 TBSP chopped walnuts
Mix together oats, pumpkin, yogurt, spice, and maple syrup. Eat right away or refrigerate and eat later. When ready to eat, top with prunes and walnuts.
YIELD: 1 serving
NUTRITION FACTS
Calories: 285
Fat: 6.8 grams
Carbohydrate: 45.6 grams
Sugar: 19.8 grams
Fiber: 5.9 grams
Protein: 13.6 grams
Calcium: 131.7 milligrams
Potassium: 483.2 milligrams
VERSATILITY
The versatility of milk is that it can be consumed in a glass, or added to smoothies with fruit, or in a bowl of cereal for a quick snack that keeps your nutrition on track.
CHEESE PLEASE
Cheese is a food that some people may limit due to the calories and fat. The good news is that there are several varieties of lower-fat cheese, but also several forms of full fat cheese to cut the fat and calories. Try cheese and fruit kebabs for a savory and sweet snack option. Alternate cubes of cheese with sliced fruit on toothpicks.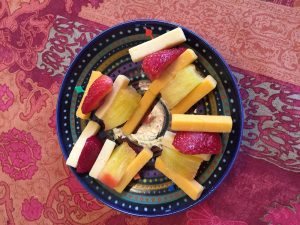 CHEESE AND FRUIT SKEWERS
8 cheese cubes (% fat of choice)
4 strawberry halves
4 chunks of pineapple
Alternate cheese and fruit on skewers
SERVING SIZE: 3 skewers
NUTRITION FACTS
Calories: 147
Fat: 10 grams
Carbohydrate: 6.5 grams
Fiber: 0.9 grams
Sugar: 4.8 grams
Protein: 8.4 grams
Calcium: 203.5 milligrams
Potassium: 103.6 milligrams
How about a mini caprese snack pizza? Mini fresh mozzarella balls with tomato on a whole wheat sandwich thins with pesto makes for a delicious and satisfying snack.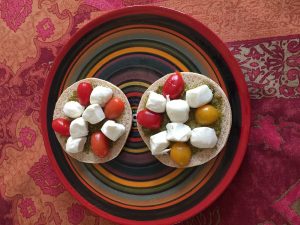 MINI CAPRESE FLATBREAD
1 whole grain sandwich thin
1.5 teaspoons pesto
4 cherry tomatoes. Sliced
2 fresh mozzarella mini rounds, or 3 to a package, – if you use the round- slice into 4 slices or if you use the 3 to a package, slice in half to yield 6 small slices
Open the sandwich thin and lay flat. Spoon and spread ¾ teaspoon pesto on each half. Arrange slices of tomato and fresh mozzarella.
SERVING SIZE: 2 halves
NUTRITIONAL FACTS
Calories: 289
Fat: 13.65 grams
Carbohydrate: 27.75 grams
Fiber: 5.15 grams
Sugar: 1.75 grams
Protein: 14.4 grams
Calcium: 122.5 milligrams
Potassium: 230 milligrams
Cheese can add the protein to salsa. Mix ¼ cup shredded low-fat Cheddar in ½ cup salsa and serve with vegetables for a flavor-rich, nutrient dense snack.
LESS WASTE
Dairy can be a great way to reuse, repurpose and renew your snacks. Add the leftover cereal crumbs to cottage cheese or yogurt. Use up that brown banana by mixing with milk in a smoothie. Sprinkle the last of the cheese onto a tortilla and top with salsa. Turn leftover oats into something dreamy by adding a little bit of creamy Greek yogurt.
Dairy ups your nutrition score in your pour, bowl or on your plate with variety, satiety and a taste that is just great! For more simple dairy snacks and inspiration, check out UndeniablyDairy.org.
This post is created by Leslie Bonci, registered dietitian as part of the Undeniably Dairy campaign, sponsored by the Innovation Center for US Dairy and America's Dairy Farm Families and Importers. I would like to express my gratitude to the farmers and processors who make sure that their dairy products deliver on quality, consistency, and simplicity.