Whether you are a parent, grandparent, guardian or caretaker you have a big role to play in helping your little ones
to be nurtured and nourished every day. For children two years old and under you want to capitalize on opportunities
to introduce foods at the right time, with variety to increase acceptance, to set the stage for future eating habits and minimize picky eating and food rejection. Do take advantage of foods that fit within your budget, and are easy to
prepare, and remember the right portion size is key when it comes to feeding little ones appropriately.
For babies under the age of 12 months, keep in mind that there are no recommended serving or portion sizes. Instead, the concept of responsive eating- "parent provides, child decides" can be your guide. As the food giver, your role is to provide safe and nutritious foods, and your child(ren) decide how much and whether or not to eat.
Here are some resources for more information on this topic
US Dept HHS video
https://eclkc.ohs.acf.hhs.gov/video/parent-provides-child-decides
Division of Responsibility
http://www.uofmhealth.org/health-library/ug2200
Picky Eating
https://www.ncbi.nlm.nih.gov/pmc/articles/PMC8431657/
https://solidstarts.com/10-steps-to-prevent-or-reverse-picky-eating
For guidance of food choices and portions for children between the ages of one to three years of age, the American Academy of Pediatrics has excellent resources.
https://www.healthychildren.org/English/ages-stages/toddler/nutrition/Pages/Serving-Sizes-for-Toddlers.aspx
https://www.healthychildren.org/English/ages-stages/toddler/nutrition/Pages/Sample-One-Day-Menu-for-a-Two-Year-Old.aspx
You can learn more about foods to include and exclude by age group in this resource from the American Academy of Pediatrics and National Dairy Council. Airplane Choo-Choo
https://www.usdairy.com/getmedia/686022de-34dd-415c-a1e0-46850024af98/Airplane-Choo-Choo-2021-Final.pdf?ext=.pdf
And, there are also additional resources from MyPlate.gov
https://www.myplate.gov/life-stages/infants
Of course, you should always check with your pediatrician for individual guidance.
To make food introduction an engaging and positive experience, do keep these tips in mind.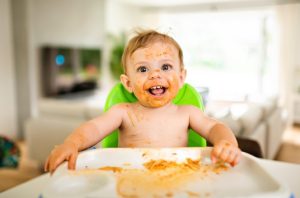 Think about foods that pair well together like dairy foods with produce and grains and provide nutrient amplification
Encourage self-feeding- don't stress about the mess. Let your littles ones be hands- on and hands -in and save the clean- up and clean- off until they are done eating.
Offer a food more than once – exposure is key to familiarity and acceptance.
Minimize the distraction to increase eating attraction by creating a stress free, non-rushed eating environment
Food is an essential component of nourishing and nurturing and should never be used as a reward or punishment.
A nurturing feeding environment helps to set the stage by providing positive food-related experiences
Do encourage, enable and empower your little ones with the discovery of food by providing variety, in the right amounts and the right form