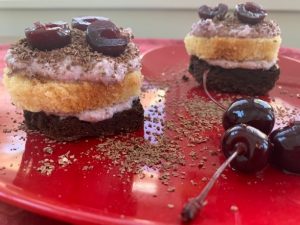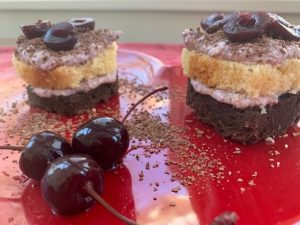 My mother-in law used to make a cassata cake for my husband each year for his birthday. I put my own special spin on this recipe for a treat for my sweet!
INGREDIENTS
Chocolate pound cake- homemade or store bought
Lemon pound cake homemade or store bought
Cream filling
1 cup whole milk ricotta cheese
¼ cup Bourdeauz maraschino cherry juice
2 TBSP confectioners sugar
¼ teaspoon grated orange rind
.75  oz semisweet chocolate, grated ( 3 Tablespoons grated
6 Bourdeaux cherries, stemmed and chopped
3 Bourdeaux cherries, stemmed and halved
1 TBSP slivered almonds
DIRECTIONS
Use a 2.75 x 2.75 x 1 inch heart shaped cookie cutter to cut hearts out of the pound cakes.
Slice each heart horizontally.
In a mixing bowl, cream together the ricotta, confectioners sugar, and cherry juice until smooth. Add in 12 Tablespoons of the grated chocolate, the chopped cherries and almonds. And blend well.
To assemble:
Place chocolate heart on a plate, spoon on 1 Tablespoon of the ricotta mixture, top with a lemon poundcake heart, spoon on another Tablespoon of the ricotta mixture, top with grated chocolate and 3 cherry halves.
YIELD:
4-6 cakes