The health-related benefits from consuming omega-3 fats are nothing new.  For the past few decades, health and nutrition experts have advised that we should increase our intake of omega-3s because of their anti-inflammatory benefits.  More recently, research shows that omega-3s also play a role in reducing exercise-induced muscle damage and soreness, along with enhancing muscle protein synthesis.
WHAT ARE OMEGA-3s?
Omega-3s are a type of fatty acid found in foods such as fish, seafood, flaxseed, algae,  and walnuts. There are three primary omega-3 fatty acids:
Eicosapentaenoic acid (EPA) found in cold water fish such as anchovies, salmon, mackerel, sardines, tuna, cod, and herring.

Docosahexanoeic acid ( DHA) found in cold water fish such as salmon, mackerel, sardines, tuna, cod, and herring.
Alpha linolenic-acid – (ALA) found in flaxseed, soybean oil, canola oil, chia seeds, algae and walnuts.
HOW MUCH OMEGA-3 IS GOOD FOR ME?
The Dietary Guidelines for Americans recommend at least 8 ounces of fish/week or at least 250-500 milligrams/day.  There is no current recommendation for athletes, although studies that have reported exercise-related benefits have used 1,500 to 3,000 mg/day.
FOOD OR SUPPLEMENTS?
Getting in enough omega-3s can be a challenge if you don't like fish, you don't want to prepare fish or don't know how to cook it, of if you don't eat walnuts or flaxseed in large enough quantities.  Numerous brands of omega-3 supplements are available and that is how many Americans consume omega-3s.
WHY NOT TAKE AN OMEGA-3 PILL?
Omega-3 capsules are an easy way to increase consumption, but common side effects include:
Fishy taste
Persistant burping
Bad breath
Increased risk of bleeding
Heartburn
Nausea
Diarrhea
Headaches
Sweat that smells fishy
Potential for interaction with other medications (such as anticoagulants and NSAIDs)
A TASTY COMPROMISE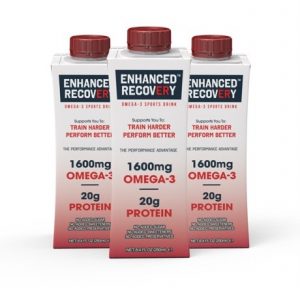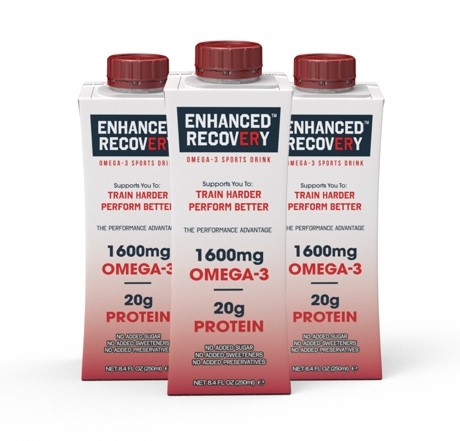 As a sports dietitian, I am excited about Enhanced Recovery Omega-3 Sports Drink because it provides a trifecta of 1600 milligrams of omega-3 fats as:
820 mg DHA
550 EPA
230 ALA and other omega-3 fatty acids
Enhanced Recovery is shelf-stable, ready to consume, tastes great, and contains whey proteins and other ingredients known to support muscle protein synthesis and repair.
BOTTOM LINE
Athletes who train hard have to rely on good nutrition to recover quickly.  Even more important, good nutrition supports all of the adaptations that result from hard training and lead to improved performance.  Enhanced Recovery is scientifically formulated with omega-3 fats to support both recovery and adaptation, making it easy for athletes to consume nutrients that benefit both health and performance.
@ERSportsDrink
#ERSportsDrink