October signals the fall with beautiful leaves, crisp air, Halloween and of course pumpkins. My favorite color is orange not just to wear but also to eat. Pumpkin is so incredibly versatile. It can be a key component of breakfast in oatmeal, smoothies, muffins, quick breads and pancakes. Pumpkin is delicious in soups, sauces, stews, and even stuffed with rice, barley, quinoa or farro.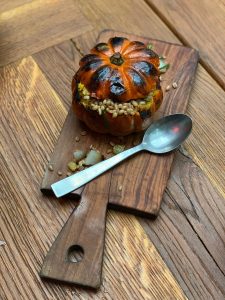 I love pumpkin not just for the color but also the nutritional benefits. Low in calories but high in fiber, potassium, beta-carotene, lutein and zeaxanthin for lung and eye health.
You most certainly can buy pumpkins, scoop out the pulp and use it in recipes , but for those of us who are time crunched, canned pumpkin is a fabulous option. Ready to use, just open the can and add to recipes. And if you have leftover pumpkin, freeze in ice cube trays to add nutritional benefit to soups, stews, smoothies or sauces.
Going to the pumpkin patch is always fun. Here is our little princess with some pumpkins.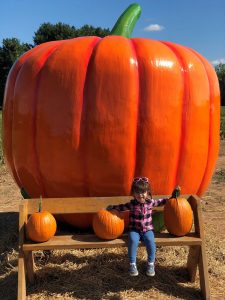 And carving pumpkins to decorate is great, but why not think about adding pumpkin to your glass, bowl or plate?
Here are a few recipes to try.
PUMPKIN  OVERNIGHT OATS
Making breakfast at night means one less thing you have to do in the morning. Adding pumpkin gives you vegetables to start the day but in a sweet way. For those who are vegan, this is a great breakfast or snack option.
½ cup oats, dry
½ cup canned pumpkin
3 TBSP orange juice
½ teaspoon pumpkin pie spice
2 teaspoons maple syrup
1 TBSP dried cranberries
1 TBSP pecans, chopped
Mix together oats, pumpkin, orange juice, spice and maple syrup.
Place in the  refrigerator in a covered container and let sit overnight or for a few hours. When ready to eat, top with cranberries and pecans.
YIELD: 1 serving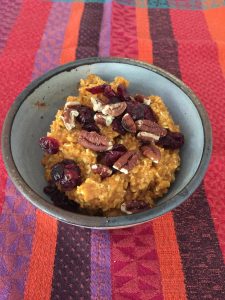 PUMPKIN AND CANNELLINI BEAN SOUP
1 TBSP olive oil
1 medium onion, chopped
2 cloves garlic, minced
1 teaspoon grated gingerroot
4 cups chicken broth
1 15 oz can pumpkin puree ( not pumpkin pie filling)
1 15 ounce can cannellini beans, rinsed and drained
1/2 tsp salt
¼ tsp pepper
1 bay leaf
½ tsp curry powder
½ tsp cumin
½ tsp Italian seasoning
raw pumpkin seeds
In a small pan, heat the oil and lightly brown the onions, garlic and gingerroot.
In a large saucepan, add the broth, pumpkin, beans, spices, onion, garlic and gingerroot.
Sinner about 8-10 minutes.
Add to a blender in small batches to blend well
When ready to serve, sprinkle soup with pumpkin seeds
YIELD: 6 servings
PER SERVING
Calories: 108
Carbohydrate (g): 18
Fiber (g): 3.35
Sugars (g):4.9
Fat (g):2.8
Protein (g):5
Potassium (mg): 288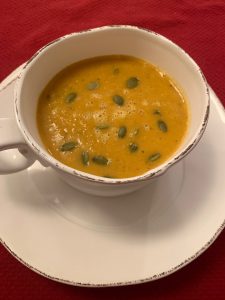 PUMPKIN AND PRUNE MUFFINS ( PLUMKINS)
1 can ( 15 ounces) pumpkin
4 eggs
¾ cup + 1 TBSP sugar
3 cups whole wheat flour
1/3 cup canola oil
½ cup coarsely chopped walnuts
2/3 cup plum puree *
½ cup dried plum bits
1 tsp vanilla
2 tsp baking soda
1 tsp orange peel
½ tsp baking powder
½ tsp salt
1-1/2 tsp pumpkin pie spice
Heat oven to 350 degrees.
Mix together pumpkin, plum puree, sugar, oil, vanilla, orange peel and eggs in a large bowl. Mix in the remaining ingredients.
Place paper muffin cups in muffin tins. Fill 2/3 of the way with the batter.  Bake 12-15  minutes or until a toothpick inserted in the center comes out clean.
To make prune puree- blend 1 -1/3 cups prunes with 6 TBSP hot water. Puree until smooth.
Yield : 42 muffins
Per muffin:
Calories: 105
Total Fat: 3.3 gm
Total Carbohydrate: 16 gm
Dietary Fiber: 2.1 gm
Sugar: 7.2  gm
Protein1.5 gm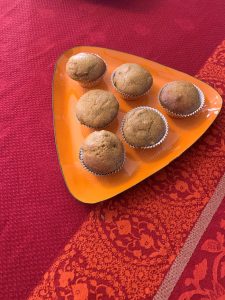 This is the time of year to be awash in squash. Stuff it, roast it, blend it, bake with it. An easy and delicious way to add veggies every day. @fruitsandveggies  #haveaplant