I am a Pittsburgh girl and pierogis and if you live in this city, you love pierogies. Hey, we are the only MLB team that has pierogis that run the bases! So to gear up for National Pierogi day on October 8th, why not try some of Mrs. T's pierogi recipes.
I prepared the following three recipes and I have to say they were a home run, touchdown and GOALLLLL!
The first is Buffalo Pierogies. Sure, everyone loves Buffalo wings, but they are often deep fried and very high in saturated fat. So, why not prepare Pierogies with the same flavor?
Here you go
BUFFALO MINI PIEROGIES
1 box Mini Four cheese medley Mrs. T's pierogies
non stick cooking spray
½ stick butter, melted
½ cup Buffalo wing sauce
½ teaspoon chili powder
Mix 1 cup plain Greek yogurt with ½ packet ranch dressing dip mix and add in 1 TBSP blue cheese crumbles
DIRECTIONS:
Preheat oven to 400 degrees. Combine melted butter, Buffalo wing sauce, and chili powder and toss with pierogies.
Coat a baking sheet with non-stick cooking spray and spread pierogies evenly on the baking sheet.
Bake for 16-18 minutes, or until pierogies are browned, For best results, turn over halfway through baking.
Serve with dip and carrot and celery sticks for 1 stop shopping: carbs, protein and produce on your plate!
YIELD: 5 servings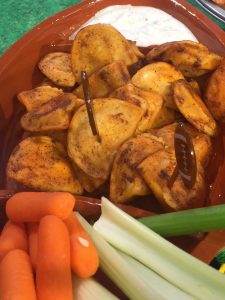 Instead of the same old pizza, how about a new twist? Pierogies as the base topped with your favorite pizza toppings. The new Five Cheese Pizza pierogies provide a flavor to savor. I love that this recipe is so easy, so tasty not heavy and not greasy!
PIEROGY PIZZA
1 16 oz box Mrs T's Five Cheese Pizza  pierogies
½ cup pizza sauce
¼ cup sliced turkey pepperoni
½ cup shredded mozzarella
Chopped green peppers, mushrooms. Sliced olives, and onions.
DIRECTIONS:
Boil pierogies as directed on the box. Drain. Preheat oven to 400 degrees. Grease a 10-12 inch pizza pan. Arrange 2 pierogies in the center of the pizza pan, with straight slides slightly overlapping. Arrange the remaining pierogies around the center pierogies in a concentric circle, slightly overlapping, pressing pierogies together to form a complete circl.e
Spread pizza sauce over the pierogies to cover. Top with peppers, onions, mushrooms, sliced olives and turkey pepperoni. Sprinkle with cheese. Bake 12-15 minutes or until cheese is melted and pieorgies are heated through. Cut into wedges to serve.
YIELD: 4 servings
Certainly pierogies sautéed in butter are just heavenly, but if you are looking to lighten up without sacrificing taste, this recipe is for you.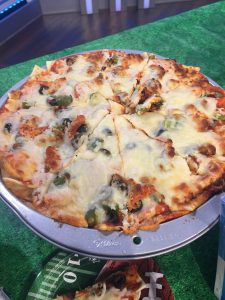 OVEN BAKED PIEROGIES
1 box Mini Four cheese medley pierogies
2 cups plain breadcrumbs
1 TBSP dried parsley
1 TBSP dried basil
2 teaspoon garlic powder
1 TBSP paprika
salt and pepper to taste
3 eggs, beaten
non stick cooking spray
Marinara sauce and ranch dressing.
DIRECTIONS
Preheat ovent to 425 degrees. Grease a cookie sheet with non stick cooking spray. Set aside.
In a large bowl, combine breadcrumbs, parsley, basil, garlic powder, paprika, salt and pepper. In another bowl, beat the eggs.
One by one, coat each pierogi with egg, and then in the breadcrumbs. Make sure they are fully coated. Lay pierogies flat on the greased baking sheet.
Bake for 15 minutes or until golden brown.
Serve with marinara sauce and a light Ranch dip made with plain Greek yogurt and ranch dressing dip mix.
YIELD: 5 servings